The Grant Wood Art Colony welcomes Steve Prince, Visiting Artist in Printmaking.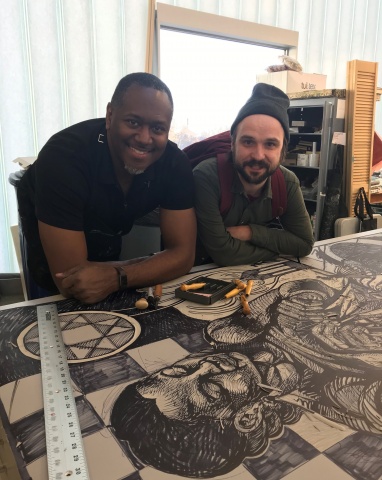 Artist Steve A. Prince is a native of New Orleans, Louisiana, and he currently resides in Williamsburg, Virginia.  Prince received his BFA from Xavier University of Louisiana and his MFA in Printmaking and Sculpture from Michigan State University.  He is currently the Director of Engagement and Distinguished Artist in Residence at the Muscarelle Museum of Art at the College of William and Mary.  He is represented by Zucot Gallery in Atlanta, Georgia.   Prince has created several public works including an 8' x 8' mixed media work titled "Lemonade: A Picture of America" at the College of William and Mary commemorating the first 3 African American resident students in 1967 at the college.
Prince received several honors for his art and scholarship including the 2010 Teacher of the Year for the City of Hampton.  Prince has shown his art internationally in various solo, group, and juried exhibitions. Prince has participated in several residencies including the 2007 Partners of the Americas Artist in Residence in Santa Catarina, Brazil. 
Prince has lectured and conducted workshops in both secular and sacred settings internationally in a variety of media.  Many of his hands-on workshops and community-based projects have culminated in the creation of permanent communal based artworks.  He spreads a message of hope and renewal to the global community through the cathartic funerary tradition from New Orleans called the Dirge and Second Line.  Prince has operated under the credo, "your imagination is your only limitation.
Learn more about his artist talk at 7 p.m. on February 19 here.