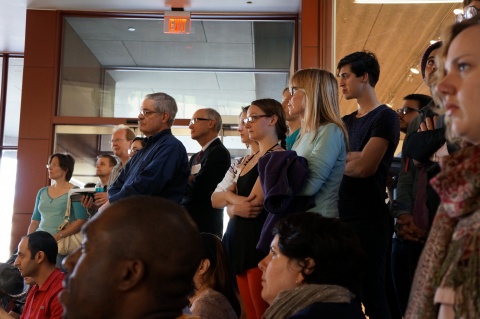 The biennial Grant Wood Symposium was conceived as a scholarly forum for the study of the art and times of one of the University's most renowned faculty artists, the Symposium engages scholars from around the country to present papers related to a changing theme.  Taken together, the Grant Wood Symposium and Fellowship demonstrate that the legacy of the nation's leading Regionalist artist is not merely a memorialized one, but a living one that contributes to the production of new creative work in the arena of contemporary art and new knowledge through the scholarly enterprise. 
The 2016 Grant Wood Symposium will be October 28 through 29. In honor of Grant Wood's 125th birthday, the theme is "Myth, Memories, and the Midwest: Grant Wood and Beyond." Presentations will be held in Art Building West on the University of Iowa campus. The symposium is free and open to the public. A list of events and speakers will be available in June.
Click here for the 2016 Symposium schedule.
Previous Symposia programs and papers may be found in the University of Iowa's Institutional Repository.
Click here for information about sponsoring the Symposium and other Grant Wood Art Colony programs.