2016 Grant Wood Symposium
"Myth, Memories, and the Midwest: Grant Wood and Beyond"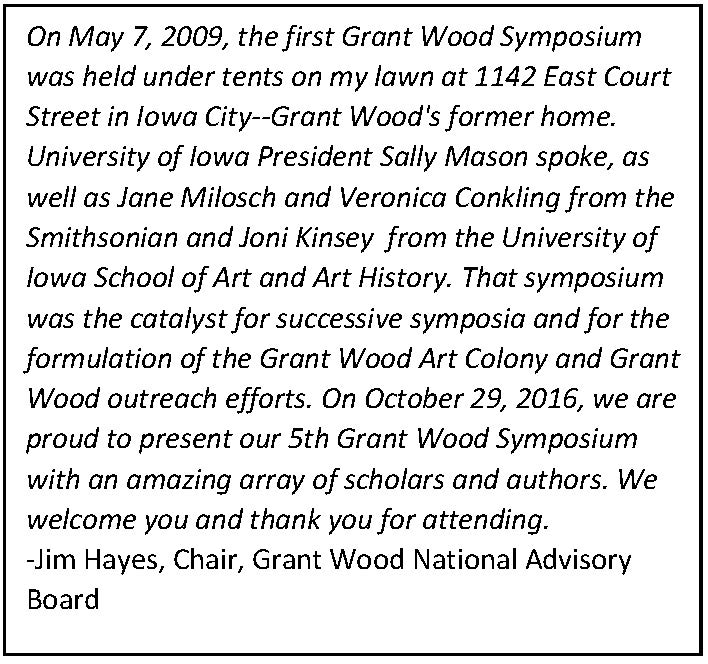 The Grant Wood Art Colony presented the 5
th
biennial symposium, "Myth, Memories, and the Midwest: Grant Wood and Beyond." In honor of Grant Wood's 125
th
birthday, the Colony and its National Advisory Board planned a robust and engaging event.
The keynote, morning session, and afternoon session are available for viewing on YouTube. Please note that the Q&A from the morning session is not available due to poor audio quality.
Full-text papers will be archived and made available as they are submitted by the presenters to the Grant Wood Art Colony. Click on the presentation below to see if a full-text paper has been received.
---
LOCATION
Art Building West on the University of Iowa Campus.
141 North Riverside Drive, Iowa City, Iowa 52246
---
SCHEDULE
Click on each title below for an abstract and to learn more about each speaker.
Friday, October 28
7:30 p.m.: Keynote Address: Screwball Regionalism: Grant Wood and Humor During the Great Depression
                 Erika Doss, University of Notre Dame
Saturday, October 29
9:00 a.m.: Welcome
9:20 a.m.: Grant Wood and the After-Life of Victorian Architecture
                  Kerry Dean Carso, State University of New York at New Paltz
10:00 a.m.: On Common Ground: Grant Wood and the photography of the Farm Security Administration
                 James Swensen, Brigham Young University
10:40 a.m.: "Something of color and imagination": Grant Wood, Storytelling, and the Past's Appeal in Depression-Era America
                 Annelise K. Madsen, Art Institute of Chicago
11:20 a.m.: Q&A led by Wanda Corn
12:00-1:30 p.m.: Break
1:30 p.m.: Grant Wood's Regionalist Camouflage
                 Jason Weems, University of California, Riverside
2:10 p.m.: In Springtime: Myth and Memory in Grant Wood's Last Paintings
                 Sue Taylor, Portland State University
2:50 p.m.: Q&A led by Joni Kinsey
View the entire Symposium by clicking here.
---
The Symposium culminated with a special viewing of the documentary 1142 at The Englert Theatre Saturday evening at 5:30 p.m. The documentary can be viewed on YouTube as well.
---
Support for the Grant Wood Symposium was provided by James Hayes, Kim and John Callaghan, and the Iowa Arts Council, a division of the Iowa Department of Cultural Affairs, and the National Endowment for the Arts.

---