Abstract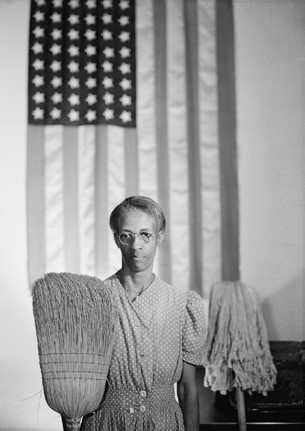 When Gordon Parks captured Ella Watson in the guise of Grant Wood's American Gothic in 1942, it confirmed a connection that was already well entrenched by the time the young artist photographed the Washington D.C. charwoman. While Parks's photograph represents the most obvious link between the photographers of the Farm Security Administration (FSA) and the important regionalist, it was by no means the only way in which Wood, his paintings, and his ideas were manifested in the extensive work of the New Deal agency. Not only did they share a similar subject matter in rural America, but they also possessed an interest in detailing the lives of Midwestern farm families. Indeed when in 1935 Wood spoke of the nation turning inward to awaken "non-urban" values, he would have found a ready audience in Roy Stryker, head of the FSA's photographic efforts, and many of his employees.
This paper seeks to explore the interplay between Grand Wood and the photography of the FSA.  It will investigate Wood's influence and the ways in which it touched upon the work of FSA photographers working in the Midwest like Russell Lee, Arthur Rothstein, and others. While these photographers may not have posed their subjects like Parks, they shared much in common with the Iowan painter. At the time, the representation of rural American was not separated by medium.
Rather, through federal sponsorship of the arts and other means, there was rich interplay of imagery that engaged artists of all types during the 1930s. On Common Ground, therefore, will reunite these two bodies of work to see what they reveal about each other, Iowa, and the American scene.
View the presentation.
Watch the presentation on YouTube. NOTE: This presentation runs from 48:22 through 1:23:11 during the video.
About the speaker
Dr. James R. Swensen is an associate professor of art history and the history of photography at Brigham Young University. His research interests include documentary photography, the art and photography of the American West and the Grand Tour of Italy. He has recently completed two books on photography:
Picturing Migrants: The Grapes of Wrath and New Deal Documentary Photography
(University of Oklahoma Press, 2015), and
In a Rugged Land: An Investigation of Ansel Adams and Dorothea Lange's
Three Mormon Towns
Collaboration, 1953-1954
. His chapter "Maynard Dixon and the Forgotten Man," appeared in the anthology
Locating American Art
(Ashgate Press) in 2016.