Abstract
That Grant Wood was an engaged humorist is obvious in his now iconic 1930 painting American Gothic, seemingly a straightforward portrait of a midwestern farm couple that, on closer scrutiny, reveals the artist's talent for aesthetic caricature.  Focusing on the decade of the Great Depression, this talk looks at the social and popular culture sources for Wood's deprecating sense of humor, from Hollywood's screwball comedies and the deadpan wit of "cowboy philosopher" Will Rogers, to the insights of writer Constance Rourke, whose landmark 1931 book American Humor: A Study of the American Character synthesized the "vagaries" of national folklore.  Aiming to defuse Depression era anxieties, and his own, Wood employed humor to foreground issues of difference in the American heartland.
View the presentation.
Watch the presentation on YouTube.
About the keynote speaker: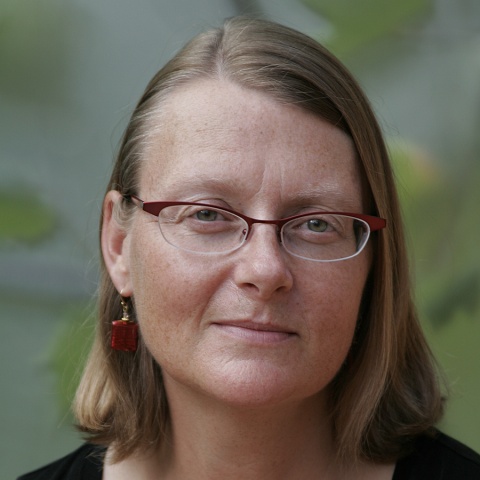 Erika Doss is a professor in the Department of American Studies at the University of Notre Dame.  Her wide-ranging interests in American art are reflected in the breadth of her publications which include:
Benton, Pollock, and the Politics of Modernism: From Regionalism to Abstract Expressionism
(1991),
Spirit Poles and Flying Pigs: Public Art and Cultural Democracy in American Communities
(1995),
Elvis Culture: Fans, Faith, and Image
(1999),
Looking at
Life
Magazine
(editor, 2001),
Twentieth-Century American Art
(2002), and
Memorial Mania: Public Feeling in America
(2010).  Recent monographs include
The Emotional Life of Contemporary Public Memorials: Towards a Theory of Temporary Memorials
(2008).  Doss is also co-editor of the "Culture America" series at the University Press of Kansas, and is on the editorial boards of
Memory Studies
,
Public Art Dialogue
, and
Material Religion: The Journal of Objects, Art, and Belief
.  The recipient of several Fulbright awards, Doss has also held fellowships at the Stanford Humanities Center, the Georgia O'Keeffe Museum Research Center, and the Smithsonian American Art Museum.