On October 12, Associate Provost Linda Snetselaar joined Grant Wood Fellows Eleanna Anagnos and Ryan Parker and Director Maura Pilcher on a tour of Grant Wood sites in eastern Iowa. Designed to introduce the Fellows to the life of Grant Wood, the Fellows also experience the communities outside of Iowa City.
The University of Iowa group was warmly welcomed by Bill Spersflage along Anamosa's Main Street. Bill not only serves as the new the Grant Wood Art Gallery Board President, he is also the warden of Anamosa State Penitentiary. The group paused briefly for a photo inf front of the recently installed God Bless America statue, created by J. Seward Johnson.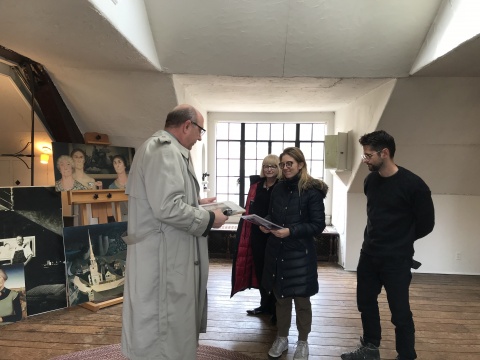 The next stop was in Stone City, the home of Grant Wood's Stone City Art Colony. While much of the buildings associated with the Colony that existed from 1932 to 1933 are nonextant, the Fellows received a tour of the town from local Brad Hatcher and, most excitingly, gained access to the Anamosa Stone Quarry.
Cedar Rapids Museum of Art Executive Director Sean Ulmer greeted the group at the Grant Wood Home and Studio, 5 Turner Alley, in Cedar Rapids. Wood was the most prolific while working and living in this former hayloft. After the studio, Ulmer provided an in depth look at the exhibition Grant Wood: From Farm Boy to American Icon. They also reviewed the Lasansky and Cone collections.
The Grant Wood Art Colony greatly appreciates the wonderful hosts on this annual tour and hope to partner in meaningful ways.