The Familial Gaze
Fri Jan 24th - Fri Apr 3rd (EST)
Reception Fri, Jan 24 6-8pm
Lecture during the opening at 7pm
Wilson Gallery, Krannert Fine Arts Center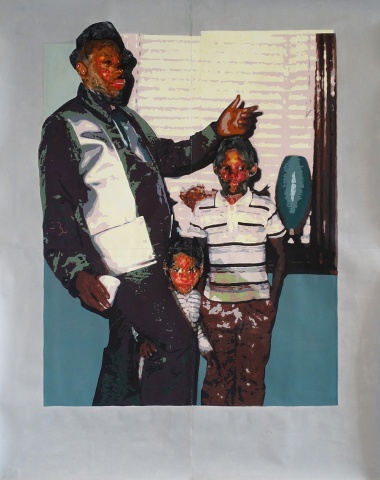 The Wilson Gallery will host The Familial Gaze, an exhibit of images derived from artist Tyanna Buie's rare family polaroids and elementary school photographs, which she re-creates as large-scale, screen-printed monotypes. These prints allow the artist to re-visit and revive her previous impressions of intimate moments in her life during the late 1960's through the early 1990's. The outcome is a celebration of family dynamics through photography and the African American experience. Buie, Assistant Professor and Section Chair of Printmaking at the College for Creative Studies in Detroit, Michigan, will speak during the opening reception.
The Wilson Gallery serves Anderson University and east central Indiana with monthly exhibitions that feature the work of regionally and nationally recognized artists. Through these exhibitions, the gallery is dedicated to enriching and engaging AU students, as well as promoting the visual arts within the community.
For more information, contact the director of exhibitions programming, Tai Lipan, at (765) 641-4320 or by email to talipan@anderson.edu. All events are free, and open to the public. Gallery hours are Monday-Friday from 9 a.m. to 4 p.m., or by appointment.
Website: https://www.anderson.edu/galleries/events/
Anderson University is a private Christian university in central Indiana. Anderson University continues to be recognized as one of America's top colleges by U.S. News and World Report, The Princeton Review, and Forbes. Established in 1917 by the Church of God (Anderson, Ind.), Anderson University offers more than 60 undergraduate majors and graduate programs in business, music, nursing, and theology.