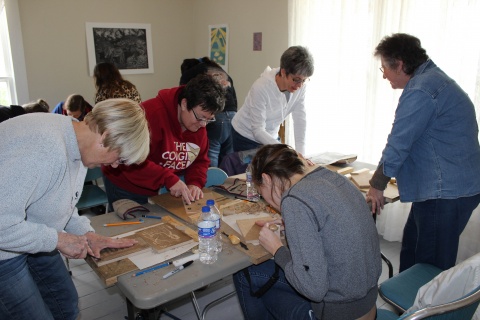 The Grant Wood Art Colony and Arts Share collaborated to send Grant Wood Printmaking Fellow Terry Conrad to the American Gothic House Center on March 19, 2016. Conrad hosted a woodblock printmaking class for 10 participants. Arts Share covered all of the material and transportation costs enabling the American Gothic House Center to offer this workshop to community members for free. Attendees came from as far as Memphis, Tennessee, and as close as a farm outside of Eldon, Iowa, and possessed skill levels ranging from crafter to Center for the Book student. Everyone left the four-hour workshop with a greater understanding of the printmaking process.
Conrad set up a small exhibition of University of Iowa printmaking graduate students' works to demonstrate the variety of outputs woodblock printmaking can have. Participants took these cues and channeled their own interests, including lighthouses, bicycling, nature, and "home." Conrad walked through each step and provided one-on-one instruction, especially when it came time to ink and proof the prints.
This workshop was held in celebration of Grant Wood's 125th birthday. The American Gothic House Center, the Grant Wood Art Colony, and other organizations are planning a variety of events to honor Iowa's most famous artist. While Grant Wood was never inside the house in Eldon, visitors are still compelled to explore this small, carpenter-gothic home that inspired Wood. American Gothic has become one of the three most recognizable paintings in the world, along with the Mona Lisa and The Scream.
In August of 1930, Grant Wood spotted the now infamous American Gothic house in Eldon because of an experiment in artistic outreach.  According to American Gothic: A Life of America's Most Famous Painting (Steven Biel, 2005):
That summer, Edward Rowan, the young director of the Little Gallery in Cedar Rapids, decided to extend his efforts at promoting community fine arts […].  "Mr. Rowan," reported the Ottumwa Courier, "announces that the extension work is done to show that the small midwestern community, entirely isolated from certain contacts, will yet respond most heartily to them when the opportunity for appreciation of the fine arts is given."
See more pictures on the Office of Outreach & Engagement facebook page.