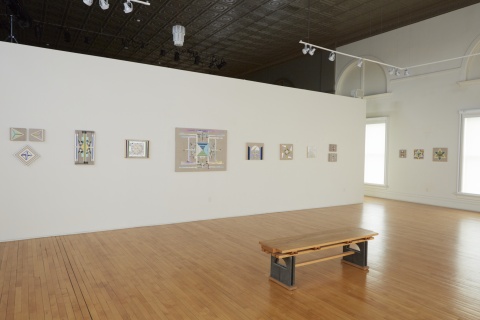 Grant Wood Fellow in Painting and Drawing, Suzanne Wright, is showing the paintings she created during her fellowship at CSPS Hall (1103 3rd Street SE, Cedar Rapids, IA). The show, entitled "Meditations on Transformation and Perspective," is available online currently by visiting the
CSPS website
. The gallery will reopen at a 50-person capacity on Saturdays and Sundays starting July 11. The exhibition closes on July 26, 2020.
Carrying on the Cedar Rapids Main Street gallery walk tradition during the pandemic, CSPS Hall will hold a First Thursday, virtual edition, on July 2. In addition to Wright, Shahar Tuchner, Adrianna "Ughism" Patterson, and T.J. Dedeaux-Norris will also be featured artists. Dedeaux-Norris was a Grant Wood Fellow in Painting and Drawing during the 2016-2017 academic year. She is now an assistant professor in painting and drawing at the University of Iowa.
Wright's work responds to the current political and social climate, as it always has. During a spring lecture, entitled Paradigm Shift, she describes major events that drastically altered her work and pushed her in new directions. This year at the Colony has been another paradigm shift for Wright. She says:
I have been involved in a continuous exploration on how an art can effect change in our contemporary community today. Artists are pioneers who sometimes do amazing and fearless things, having that determination and persistence for yourself - but also making an influential difference for others. I think some people that overcome big obstacles believe in something bigger than them selves. It's always been a visual ploy of mine to evoke that combination of desire, depth and power, whether it is sexual or not. I associate pleasure with humor and try to have it present in my life and in my artwork, I think my humor has a deep connection to trauma, anger and pain. My color choices are personal and decisions are intuitive with an attempt to mirror the contradictions and complexities of the individual. "The Rainbow Warriors" exhibition in September 2016, at Angel's Gate Cultural Center, marked 15 years since 9/11, and I, like many people, have a very personal story attached to this particular moment in time, my perspective was changed from that point on and ultimately it influenced some of the introspective and philosophical issues that are present in my work. The "Rainbow Warriors" painting was inspired by the individuals killed in the Pulse nightclub shooting and was created to find some optical and physiological alternative to mourning. Fabricating a 4-inch diameter hole at the center of the diamond-shaped prism painting, then working within the architecture of the Angels Gate historical space, I drilled a hole that looks out to the sky and the western direction at the main port in Los Angeles. This show also marked the first gathering of the collective ritual's I have been producing. Much of my artwork has been inspired by the paradigm shift that has taken place since 9-11.
My practice has centered on both the negative and positive sides of social authority & control. Carl Jung philosophy calls it: "the shadow" the deep journey of interiority, truth, and psychology. The paradoxical truth of the psyche is that to ascend - we must go down first. Election day of 2016, has been called "the psychological 9-11". It was complex and difficult to talk to my students and I found it very hard to find relevance and intentionality in my art practice. I went looking for answers. On November 16th, 2016 I listened to a talk by one of my hero's, Angela Davis from Chicago's Rockefeller Memorial Chapel. In the speech she stated some difficult realities that we are all struggling with on many different levels - she spoke in truths. One of the writings she quoted at the end of her lecture was from "An Open Letter to My Sister, Miss Angela Davis" by James Baldwin - November 19, 1970:
"…..If we know, and do nothing, we are worse than the murderers hired in our name. ——— If we know, then we must fight for your life as though it were our own—which it is—and render impassable with our bodies the corridor to the gas chamber. For, if they take you in the morning, they will be coming for us that night." 
Click here isit the CSPS website to see her work, watch an interview, and learn more.