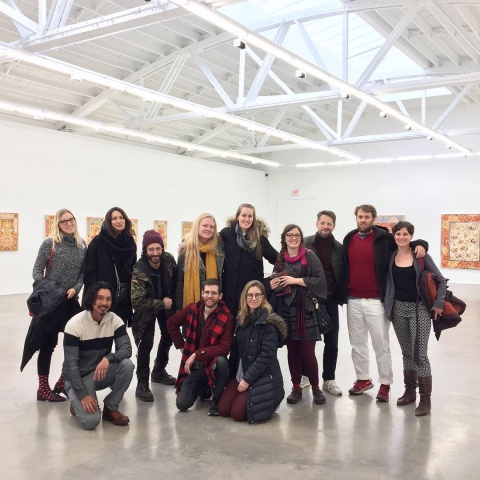 On November 30, Grant Wood Fellow Eleanna Anagnos led nine students to Chicago to engage them in the life of a working artist. Current Printmaking Fellow Ryan Parker and former Painting Fellow Joe deVera accompanied the group as they toured two museums, 15 galleries, and the School of the Art Institute of Chicago (SAIC) over two days.
The idea originated with her students. The Colony and the School of Art and Art History hosted Jefferson Pinder, an associate professor, Contemporary Practices, at the SAIC, in early October. University students enjoyed his visit and initiated the connection. Anagnos solidified the plan to have her students meet with his SAIC students and tour their studios.
UI students not only visited galleries, but also spoke to art dealers and artists who were currently on exhibition. Shane Campbell runs one of the most prestigious galleries in Chicago. Anagnos encouraged her students to ask Campbell about anything, because this might be the only chance they get to receive information as students rather than working artists. Campbell spent an hour with the students discussing the current market, trends, and what he looks for in an emerging artist.
Dorian Dean, MFA candidate in Painting and Drawing, appreciated the excursion. "Our trip to Chicago was a unique opportunity to put together all of the concepts discussed during our class into 'real world' practice. We met with gallery owners and artists, and got to ask them tough questions we usually wouldn't have a chance to ask." Dean added, "It was also a very special opportunity to bond and connect with our peers and professors."
The exposure to Chicago opened many students' eyes and made the city more accessible. Through their tour, they witnessed the current contemporary art conversation. According to Anagnos, "This trip is going to inform their work. This is part of their practice and they should be a part of the discussion."
Anagnos has brought many guest speakers to campus to talk to her class Topics: Professional Practices in Painting, including five artists. This is the first time the students have left Iowa City. Each year, the Grant Wood Fellow in Painting and Drawing has the opportunity to design a Topics class during their residency. "I've always wanted to teach this course," Anagnos explained. "I want to share what I've learned. I'm trying to give them a leg up so they don't have learn the hard way."
Anagnos is a working artist who runs the Ortega y Gasset Projects in Brooklyn, New York. In addition to teaching at the university, making new work, and curating an exhibition at Ortega y Gasset that will open in January, Anagnos has several upcoming shows: BRIC Biennial: Volume III, South Brooklyn Edition, Gallery at BRIC House (Brooklyn, New York) February 7-April 7, 2019; a solo show, High Noon Gallery (New York, New York) April 2019; and a solo show, Unity Gallery, Maharishi University (Fairfield Iowa) March 2019.