University of Iowa Grant Wood Art Colony Fellow, Johanna Winters, visited Jerry Wilson's 4th Quarter 5th-8th Grade Estherville Lincoln Central MS Art students as an Artist-in-Residence on Thursday and Friday, March 23rd & 24th, 2023.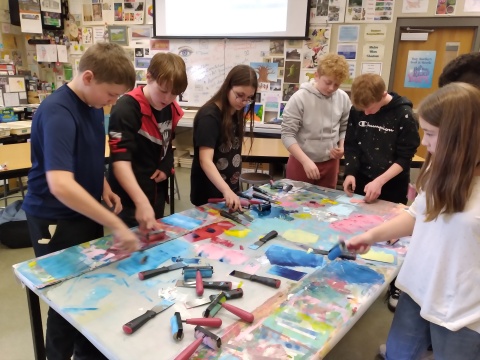 Johanna Winters' work engages printmaking, puppetry, video, performance, and sculpture to dispatch anxieties about aging in a female body. Currently this work considers the condition of a puppet-protagonist who totters between keening self-pity and private indulgences while performing her sensuality for the camera. 
Winters holds an MFA from the University of Tennessee-Knoxville, and a BA from the University of Wisconsin-Green Bay. She has been awarded residencies at the Corporation of Yaddo, Elizabeth Murray Artist Residency, Lawrence Arts Center, ACRE, Vermont Studio Center, Arrowmont School of Arts and Crafts, Guttenberg Arts, and Eugeniusz Geppert Academy of Fine Arts in Wrocław, Poland. Winters' work has been exhibited and performed nationally – recently at the Stern Theater (Kansas City, KS), Drama Club (Chicago, IL), Coop Gallery (Nashville, TN), and Soo Visual Arts Center (Minneapolis, MN).
Prior to her artistic pursuits, Winters trained as a professional cross country skier and competed on an Olympic-development ski team based in the upper Midwest.
Through a prepared video presentation, Johanna Winters introduced our ELC MS students to her style of printmaking, puppetry, video, performance, and sculpture and the meaning and focus that can be found in her work. Johanna then introduced the students to the art of monotype printmaking; a printing process in which a unique one-of-a-kind print is made and does not employ repeatable elements where more than one print is made.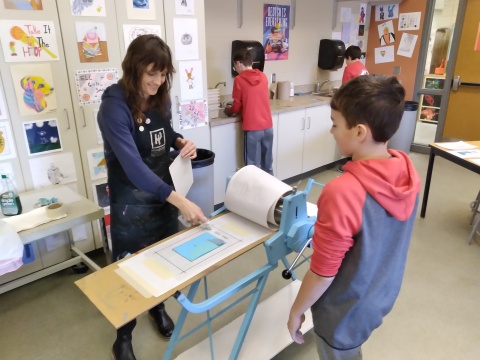 Winters demonstrated the process by cutting out simplified facial shapes from stiff manila folder paper. Using at least a couple of cutouts to create the human-like image, these pieces and a small plexiglass inking plate where separately inked with various colors of printing ink using a brayer to roll the ink out evenly. The individually inked pieces were then placed into position by hand and layered onto the rectangular plate. When everything was in position, the plate was laid on the etching press printing bed and then the premoistened printing paper was then laid over the inked plate. Having the paper premoistened allows it to pickup the ink from the plate more effectively. The printing press blanket is then laid over the paper to allow for cushioning before the print is run through the etching press using the handcrank turning wheel. After the print was "pulled" the students signed their name and the date right under the printed image with a pencil. The prints were then laid between butcher paper to dry overnight under some heavy weight to help them to flatten as they dry.
The students had a great time learning from Winters and creating their own imaginative images using the monotype printmaking process. We are very thankful for this opportunity to meet and get to know a talented artist like Johanna Winters.
These Artist-in-Residence opportunities were made possible through funding from the Fine Arts Cultural Enrichment Grant managed by the Estherville Lincoln Central Patrons of the Fine Arts.
For more information about these Artist-in-Residence workshops, or if you would like to view a session, please contact Estherville Lincoln Central Middle School Art Instructor, Jerry Wilson through the MS office.