LONDON--The finalists for the XL Catlin Art Prize 2016 have been announced. Celebrating its 10th year, this curated exhibition is now firmly established as an influential showcase for the most outstanding artists from UK art schools.
This year's finalists are: Rory Biddulph (Slade School of Fine Art, MA Fine Art), Jude Crilly (Royal College of Art, MA Sculpture), Jamie Fitzpatrick, (Royal College of Art, MA Sculpture), Christopher Gray (Goldsmiths, BA Fine Art & History of Art), Jane Hayes Greenwood (City & Guilds of London Art School, MA Fine Art), Hamish Pearch (Camberwell College of Arts, BA Sculpture) and Neal Rock (Royal College of Art, PhD Painting by Practice).
Selected from the annual XL Catlin Art Guide for their potential to make an impact in the art world over the next decade and beyond, each finalist is commissioned to produce an ambitious new body of work.
A panel of judges will select one artist to receive an award of £5,000 at a private ceremony on Tuesday 17th May. The public will also have its say: votes cast via a ballot box at the Londonewcastle Project Space will determine the winner of the £2,000 Visitor Vote. For the first time, the Visitor Vote will remain open until thirty minutes before the winner is announced.
Justin Hammond, curator of the XL Catlin Art Prize and author of the XL Catlin Art Guide comments, "Over the past decade, these projects have risen in stature and proved significant in promoting a new generation of artists. This is an exceptional group and they're determined to mark the 10th anniversary with a spectacular show."
The legacy of the XL Catlin Art Prize is evident through the successes of the scheme's alumni. Neil Raitt, winner in 2014, has already gone on to achieve impressive auction results and is represented by Anat Ebgi in Los Angeles. Jasmina Cibic, a finalist in 2007, went on to represent Slovenia at the 55th Venice Biennale and recently presented a solo exhibition at the Museum of Contemporary Art Belgrade. Juno Calypso, winner of the Visitor Vote in 2013, and Felicity Hammond, a finalist in 2015, have been announced as winners of British Journal of Photography's International Photography Awards 2016.
Paul Jardine, Chief Experience Officer at XL Catlin said, We are delighted that the XL Catlin Art Prize is celebrating its 10th year; as one of the world's leading insurers of fine art, we are proud to play a part in helping support the ambitions of promising new artists.
XL Catlin Art Prize
Celebrating its 10th year in 2016, the XL Catlin Art Prize is an annual event showcasing the most promising art school graduates one year on from their degree exhibitions. The Art Prize is sponsored by XL Catlin and is a unique in providing the artists with the time and opportunity to develop their practice, encouraging them to demonstrate their progress by producing a new body of work to be exhibited at Londonewcastle Project Space. The finalists are selected from the XL Catlin Art Guide and are considered to be producing work of an outstanding quality, which demonstrates their capacity to make a significant mark in the art world during the next decade. The author of the XL Catlin Art Guide and curator of the XL Catlin Art Prize is the independent curator and art writer Justin Hammond. For more information, please visit the XL Catlin Art website.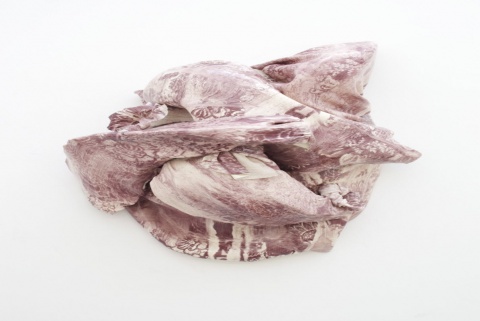 Neal Rock
Prosopon Interior
Silicone image transfer on silicone paint and polystyrene
81 x 61 x 35cm
2015