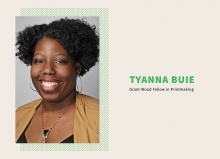 Tuesday, February 4, 2020, 7:00pm
Tyanna Buie, Grant Wood Fellow in Printmaking, will explore the expansive processes of printmaking and print media, while focusing on the trajectory of the representational, iconic, and symbolic references present in the works, as well as how the personal becomes political....
Art Building West
Thursday, February 20, 2020, 7:00pm
In a recent body of work, Grant Wood Fellow in Painting & Drawing Suzanne Wright researched the planning, architecture, and symbology of Washington, DC. Using Google Earth to view the capital city from an aerial perspective, she created an inverted, "feminized" version of the city's monuments. These works open a dialogue that responds to historically masculine symbols of power, exemplified by her painting of the Washington Monument, Goddess Eye View. Wright will discuss how art, activism,...
Art Building West